Former Washington State Cougar Klay Thompson and the Golden State Warriors crushed the Los Angeles Clippers Sunday afternoon, to the tune of 118-97. The victory evened the series at 2-2 as it returns to Los Angeles on Tuesday night.
In the game the Warriors had several huge plays that sparked their momentous first half. Steph Curry hit his first five three-point attempts, Andre Iguodala hit some ridiculously important shots in a huge third quarter, David Lee was big on both ends and Draymond Green made big plays with Jermaine O'Neal on the defensive end all game long.
But nobody put a stamp on the game quite like Klay Thompson did in the second quarter: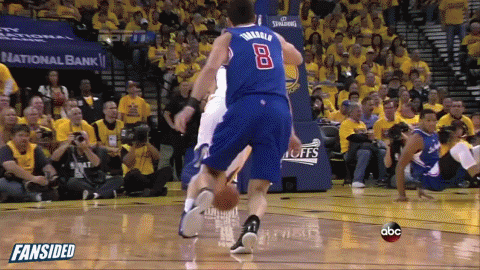 The Warriors' radio crew called it the "dunk of the year", as Thompson whirly-birded his way into and through Glen "Big Baby" Davis to throw down. There's no doubt that even in what was a tough game for Klay as an individual plagued with foul trouble, he clearly delivered one of the best dunks of the series and even the NBA Playoffs. In a season full of extremely exciting first round series', it's going to be difficult to top this one between GS and L.A.
Tags: Basketball GIF Klay Thompson NBA Playoffs Washington State Cougars